1000M Gigabit SFP Media Converter fiber optic equipment
Product Description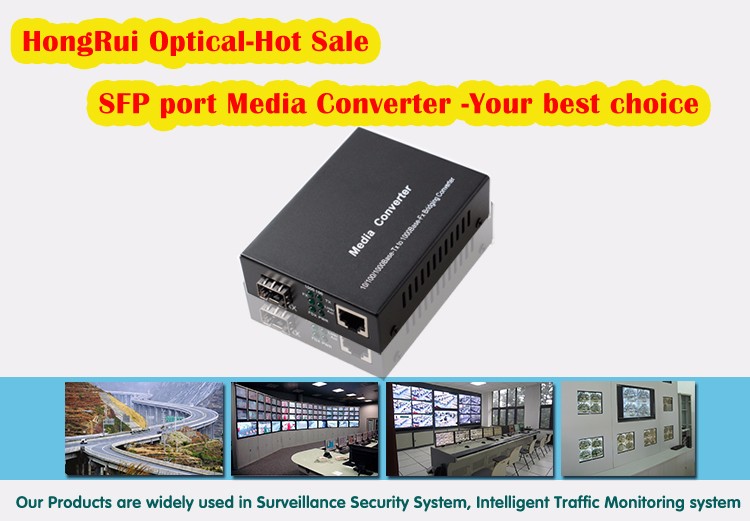 Description
The HRUI Ethernet media converters are designed to transmit and receive 10/100 /1000Mbps data over single
mode Optical Fiber. The electrical interface will Auto-Negotiate to a 10 Mbps, 100 Mbps ,1000MEthernet rate
without any adjustments. The optical interface operates at a 1000Mbps Ethernet rate. LED indicators are provided
for rapidly ascertaining equipment operating status.
Features

1. Plug and play, high performance, Low power consumption
2. Compliant with IEEE802.3, IEEE802.3u, IEEE8.3ab,IEEE802.3z
3. Complies with IEEE802.3 (10BASE-T) and IEEE802.3u (100BASE-TX/FX),IEEE 802.3z/AB
10/100/1000Base-T 1000Base-SX/LX standards
4. Electrical port supports Auto-Negotiation for 10 Mbps or 100 Mbps, full duplex or half duplex data.
5. Automatic MDI/MDI-X crossover
6. Distances up to: Depend on SFP
8. LC optical connectors.
9. DC powered
10.Status LED's for TX,FX LINK/ACT, POWER,100M,1000M to easily monitor network statu
Technical Parameter
Product Name 

10/100/1000M SFP port Fiber Media Converter

Model

HR900WS-GE

Standards

IEEE 802.3i, IEEE 802.3u, IEEE 802.3x Flow Control, IEEE 802.1af DTE Power via MDI

Wavelength

Single Mode: 1310nm,1550nm

Port

One RJ45 port, One SFP port

Network Media

10BASE-T: Cat3,4,5 UTP(≤100 meter) 100BASE-TX: Cat5 or more UTP (≤100 meter)

Forward Mode

Store and forward

LED Indicator

PWR: Green Illuminated to indicate unit is operating under normal operation
100M Flashing: Data runing at 100M rate.
1000M Flashing: Data runing at 1000M rate.
TX Link/ACT: Green Illuminated indicates receiving link pulses from 

compliant copper device and flashes when data being sent / received
FX Link/ACT: Green Illuminated indicates receiving link pulses from

compliant fiber device and flashes when data being sent / received
TP/FDX: Lit when TP full-duplex mode is active. Off when TP half-duplex 

mode is active. Blinks when collision signal is present.

Power Supply

DC5V2A

Environmental 

requirements

Operating Temperature: 0°C~+70°C




Storage Temperature: -45°C~+95°C




Relative Humidity: 0~95% (non-condensing)

Transmission

 Distance

Fiber: Single Mode,20km; UTP: Cat.5/6, 100m

Diemension

11cm*7cm*2.5cm

Warranty

2 years warranty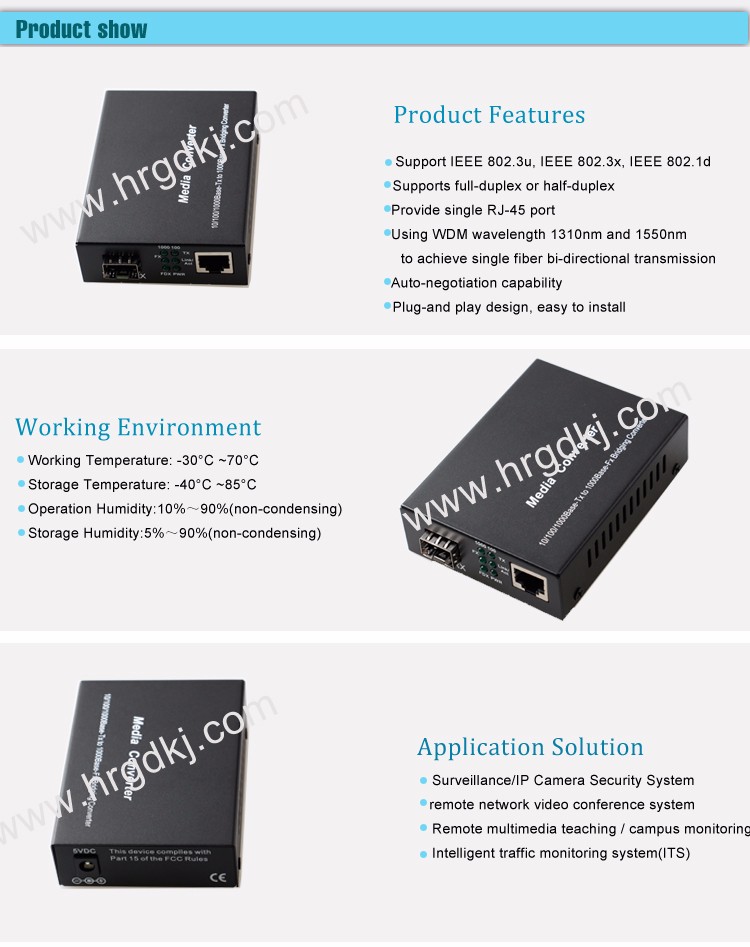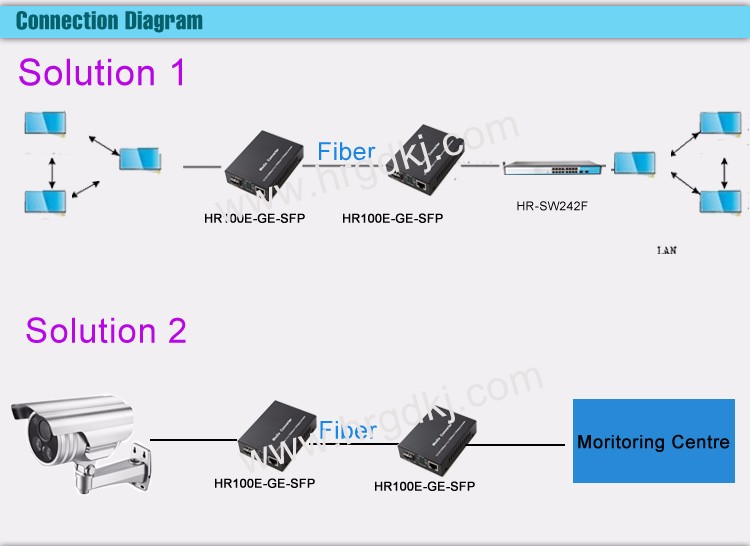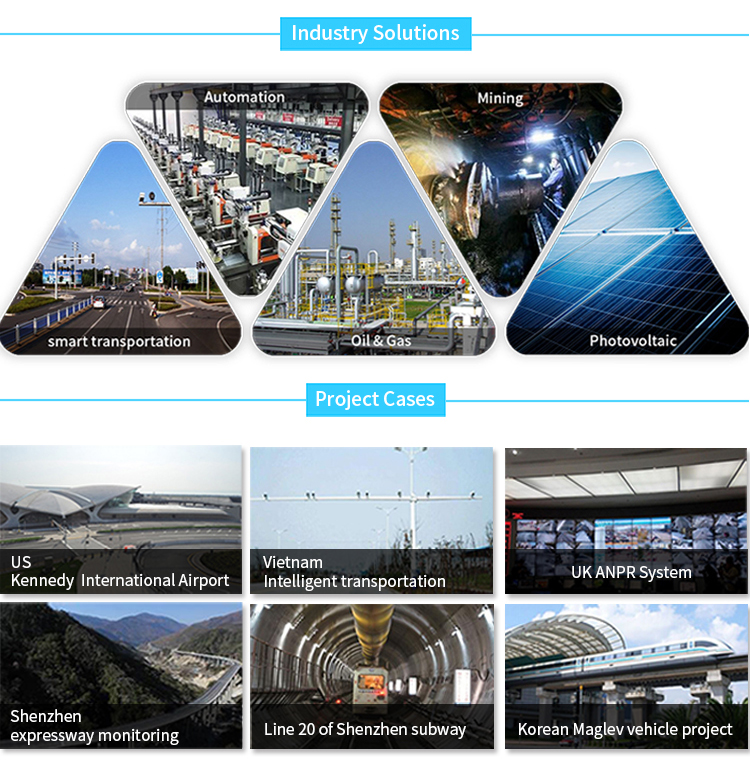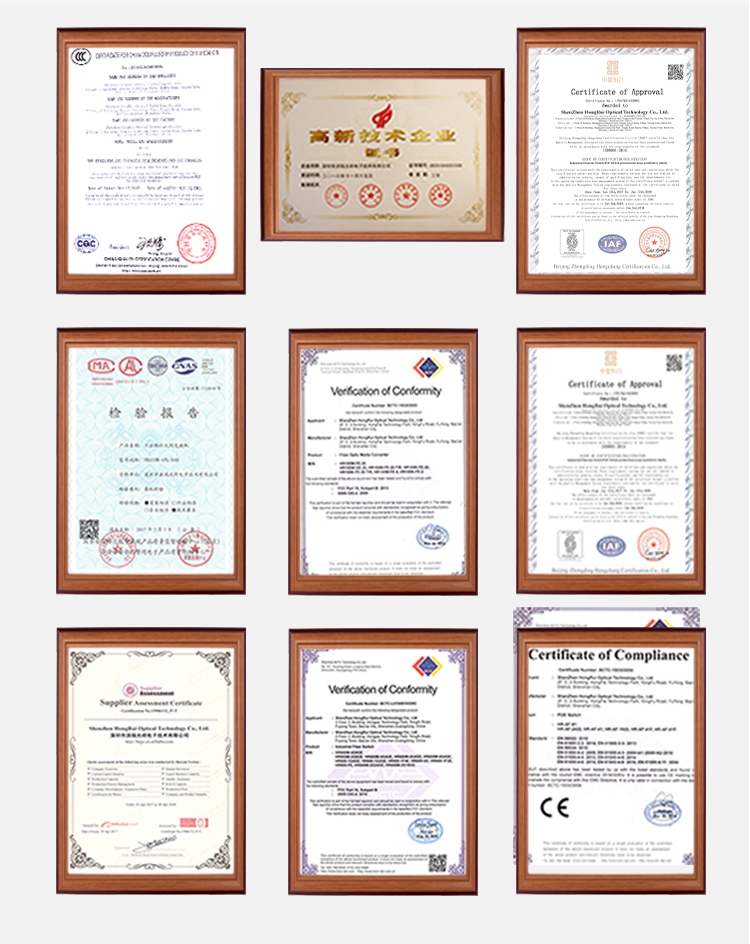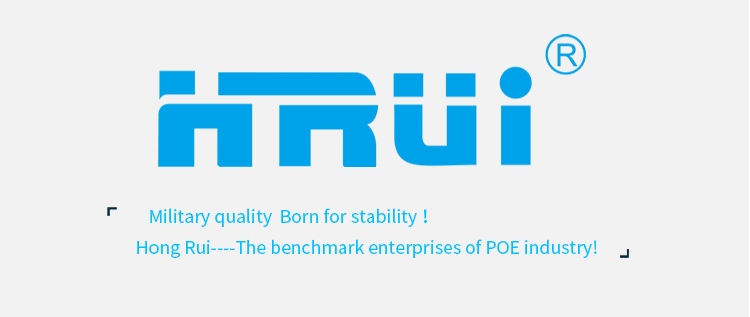 Product Categories : Fiber Media Converter > SFP Media Converter